ProFresh Citrus Fresh & Orange Blossom Body Wash 900G
Free Gift Promotion Offer
RRP
HK$99.90
(Save: HK$54.90)
delivery method
ESTIMATED DELIVERY
PRODUCT DETAILS

Seller Information

PROMOTION

PAYMENT & DELIVERY
Description
The refreshing Dettol ProFresh body wash series, offers 12-hour
protection from body odour*, leaving skin feeling healthy and fresh. The
bright and rich sense of fresh citrus combines with soft note of orange
blossom, surrounds your skin with joy and care. The formula is pH balanced and free from TCC, triclosan,and parabens, suitable for all
seasons year round. Supple without sticky residue, with Dettol's trusted
germ protection formula.
*from body odour causing germs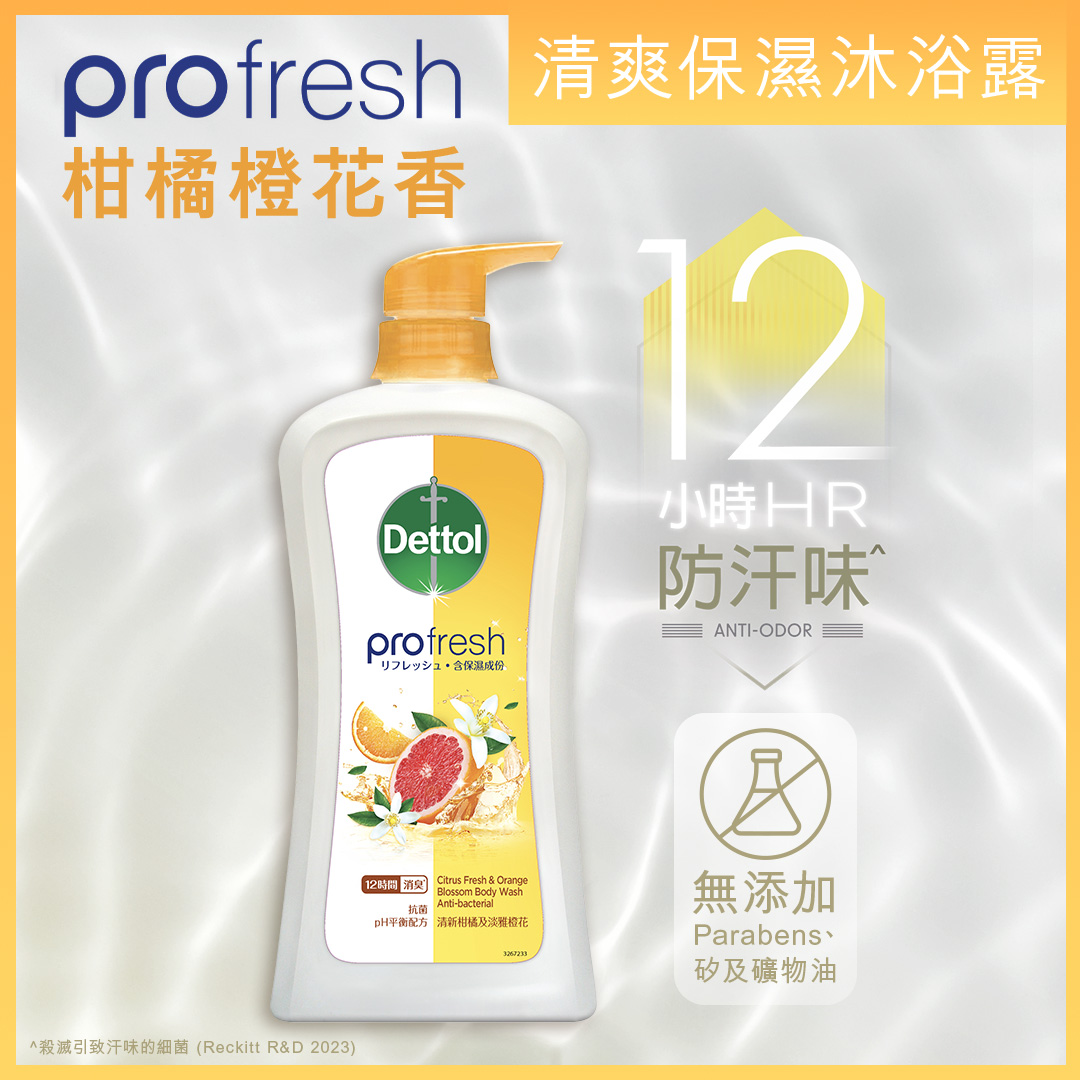 Place of Origin
China
Benefit
12-hour
protection from body odour* formula, combines with bright and rich sense of citrus and soft note of orange
blossom. With added moisturizers, leaving your skin hydrated and fresh.
The pH balanced formula gently cleanse your skin while protect it from germs.
Product Usage
Place a small amount of body wash onto a shower puff or your palm, and gently massage onto the body. Rinse well. Suitable for everyday use, for the entire family.
Ingredients
Free from parabens, silicones and mineral oils
Shipping Information
N/A
Pieces per Container
900G
Storage Condition
Store in a cool and dry place.
Skin Type
All Skin Types
Warnings
For external use only. Keep out of the reach of children unless under adult supervision. Suitable for children above 3 years old. Do not ingest. Avoid direct contact with eyes. In case of
contact with eyes