NONIO + Brightening Mouthwash (Fresh White Mint) 1000ML
Free Gift Promotion Offer
Buy 3pcs upon $99 free gift
delivery method
ESTIMATED DELIVERY
PRODUCT DETAILS

About This Shop

PROMOTION

PAYMENT & DELIVERY
Description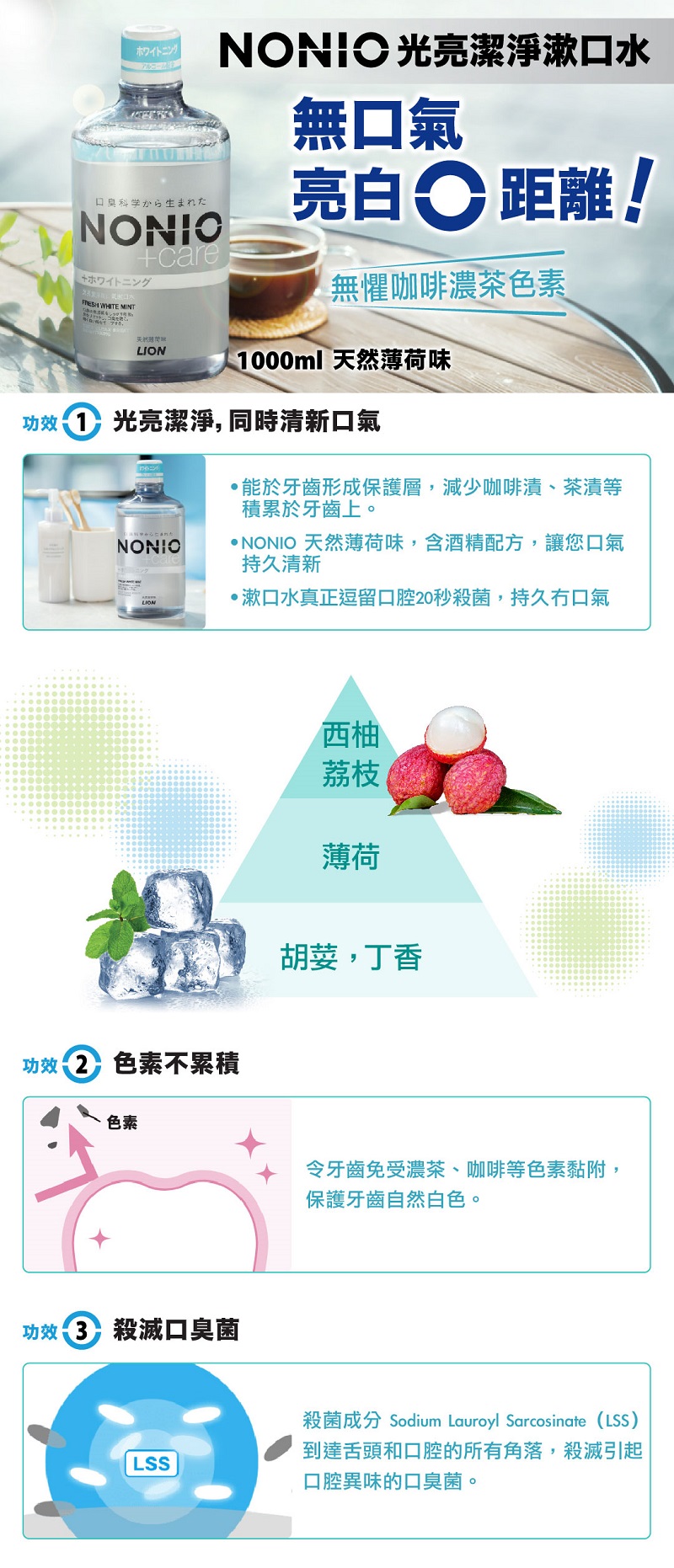 '- Made in Japan
- No Bad Breath
- Brightening
Place of Origin
Japan
Benefit
Function 1: Inhibit the formation of tooth stains
- Form a protective layer on the teeth, reducing the accumulation of coffee stains and tea stains on the teeth.
Function 2: Kill Bad Breath Bacteria
- The bactericidal component LSS *1 spreads throughout the mouth and kills bad breath-causing bacteria. Prevent bad breath for long time.

Function 3: Long-lasting fresh breath
- NONIO fresh white mint flavor, contains alcohol, it will keep your mouth long lasting fresh.
- The mouthwash stays in the mouth for 20 seconds to kill bacteria and keep your breath long lasting fresh.
Product Usage
- Use after brushing.
- Rinse with 20ml undiluted mouthwash each time, twice daily.
- Fill cap to the line (approvimately 20ml), expel after rinse thoroughly for 20 seconds.
- No further rinse with water is required.
Ingredients
Cetylpyridinium Chloride(CPC)
Shipping Information
N.A.
Pieces per Container
1000ml
Storage Condition
Keep away from direct sunlight.
Warnings
- Do not swallow.
- Stop using and consult a doctore if swallowed or any adverse reaction occurs.
- Do not use if any unusual symptom occurs