FRISO®S3_1200G
Free Gift Promotion Offer
delivery method
ESTIMATED DELIVERY
PRODUCT DETAILS

About This Shop

PROMOTION

PAYMENT & DELIVERY
Description
FRISO Gold® supports gut resilience, easy digestion* and easy absorption﬩.
Our signature milk is originated from Holland own farm, contains natural NOVAS soft & small casein#, small molecules with soft structure, formulating soft curd particles which are easier to be digested+. In addition, added with HMO° & PureGOS⬧ to support gut resilience and cultivate growth of bifidobacterial. Building a strong gut foundation to grow from stronger inside and free to explore.
*According to Kantar market online research from 2016-2021, most respondents agreed FRISO Gold® is an easy-to-digest product for children. The respondents were mothers with aged 3-6 who had purchased stage 4 growing-up formula. Sample size was 1138.
﬩Studies suggested lower glycation level is observed in small protein molecules, and facilitating absorption (Nyakayiru, J., et al. (2020). Br J Nutr. 2020; 123(5): 545–552). FRISO Gold® small protein molecules had relative lower glycation level.
# Refer to non-micellar casein. FRISO® Gold Stage 4 contains 2.7g casein per 100mL prepared formula (including non-micellar casein).
+In vitro studies suggested less mineralized milk has softer structure and is easier to be digested in stomach (Huppertz, T., & Lambers, T. T. (2020). International Dairy Journal, 104717.). NOVAS Signature Milk has lower casein mineralization.
° Refer to 2'-fucosyllactose (same structure as one of the human milk oligosaccharides, HMO), not derived from breastmilk. FRISO® Gold Stage 4 contains 0.025g 2'-FL per 100mL prepared formula.
⬧ FRISO® Gold Stage 4 contains 0.5g GOS per 100mL prepared formula.
===============================
Breastfeeding is the best nutrition for healthy growth and development of babies.
Exclusive breastfeeding is the optimal way of feeding infants.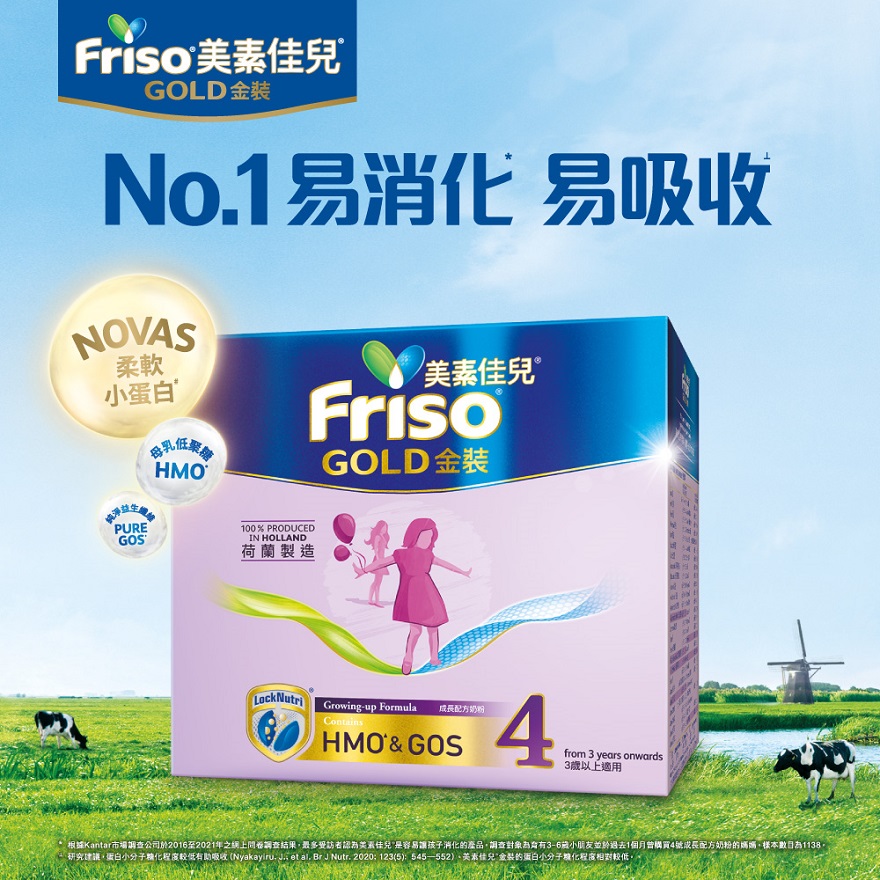 Place of Origin
Netherlands
Benefit
N/A
Product Usage
180ml of lukewarm water + 5 spoon of milk powder = 200ml prepared formula
Ingredients
N/A
Shipping Information
N/A
Pieces per Container
1200ml
Storage Condition
N/A
Warnings
N/A