FERRO-SACHETS 14MG 28 SACHETS
Delivery Options
Click & Collect
Over 160 Watsons Pick Up Points. Support Click and Collect Express in as fast as 30 mins
Home Delivery
Free shipping for net order value upon $399. Express Order during 9am - 7pm will be delivered as fast as 30 mins.
SF Locker
Free SF Locker Pick Up Points Upon Purchase of $250, located all over Hong Kong, including residential areas, estate shopping malls
Bank Promotion
HSBC Visa Platinum Card x MoneyBack 2022 Watsons HK Exclusive Offer.
1. 6X MoneyBack Points if you are a VIP MoneyBack member/ 4X MoneyBack Points if you are a MoneyBack member;
2. Discount on Member Day: 8% discount to any single purchase transaction of at least HK$400 on the 8th, 18th and 28th day of every month (Each enrolled Credit Card account can enjoy a maximum discount equivalent to HK$40);
3. Enjoy up to 4 Times Free Delivery Yearly at Watsons eShop;
4. enjoy a $50 off in birthday month upon any purchase of $450 with full settlement by Enrolled Credit Card and select "$50 birthday discount with Enrolled HSBC Visa Platinum Card" in Check-out page.
Product Details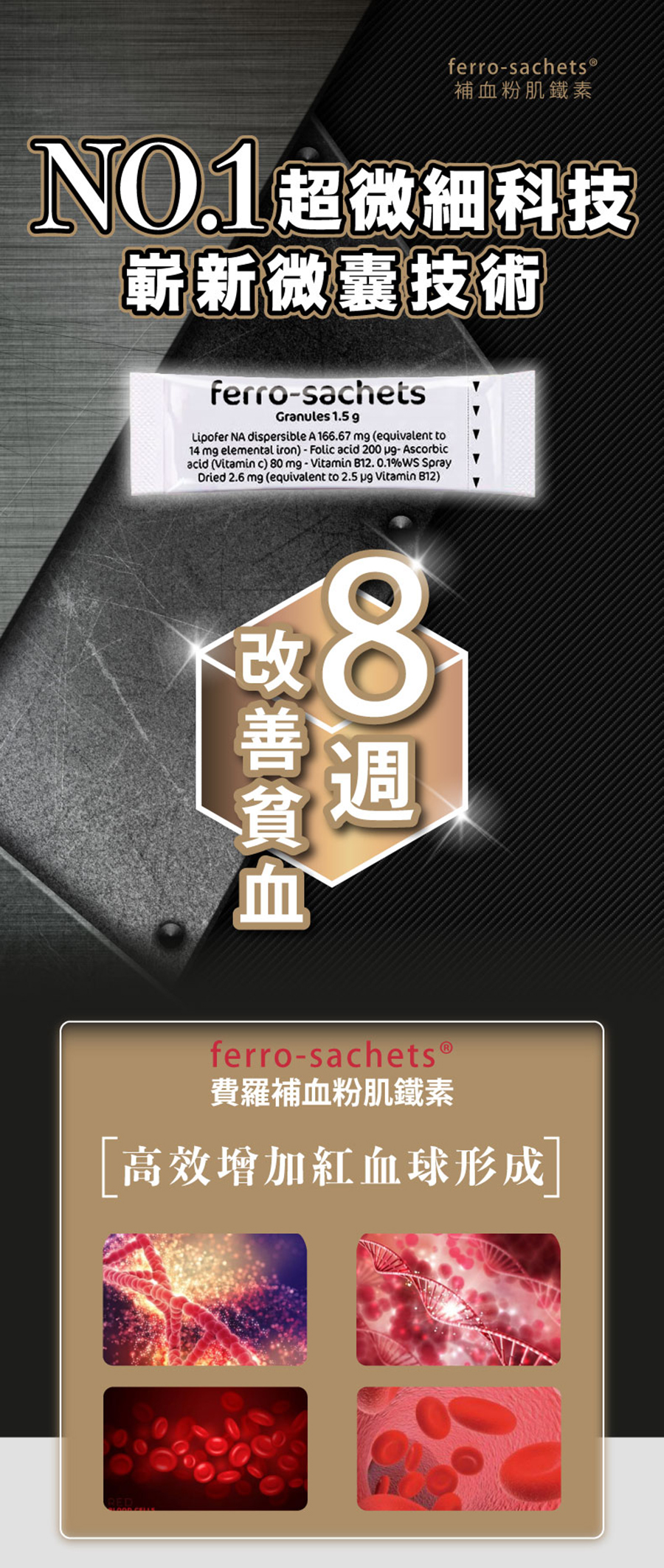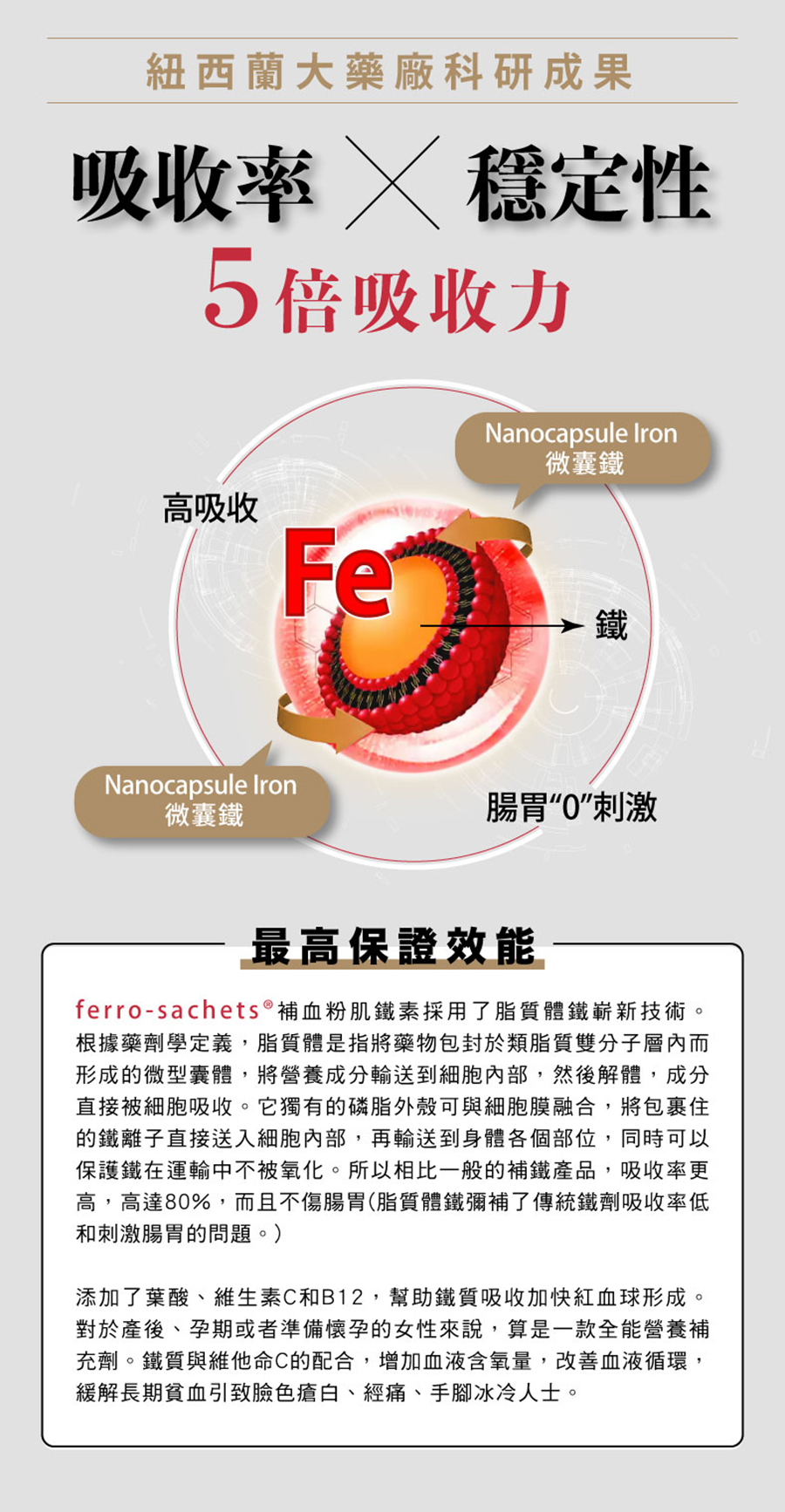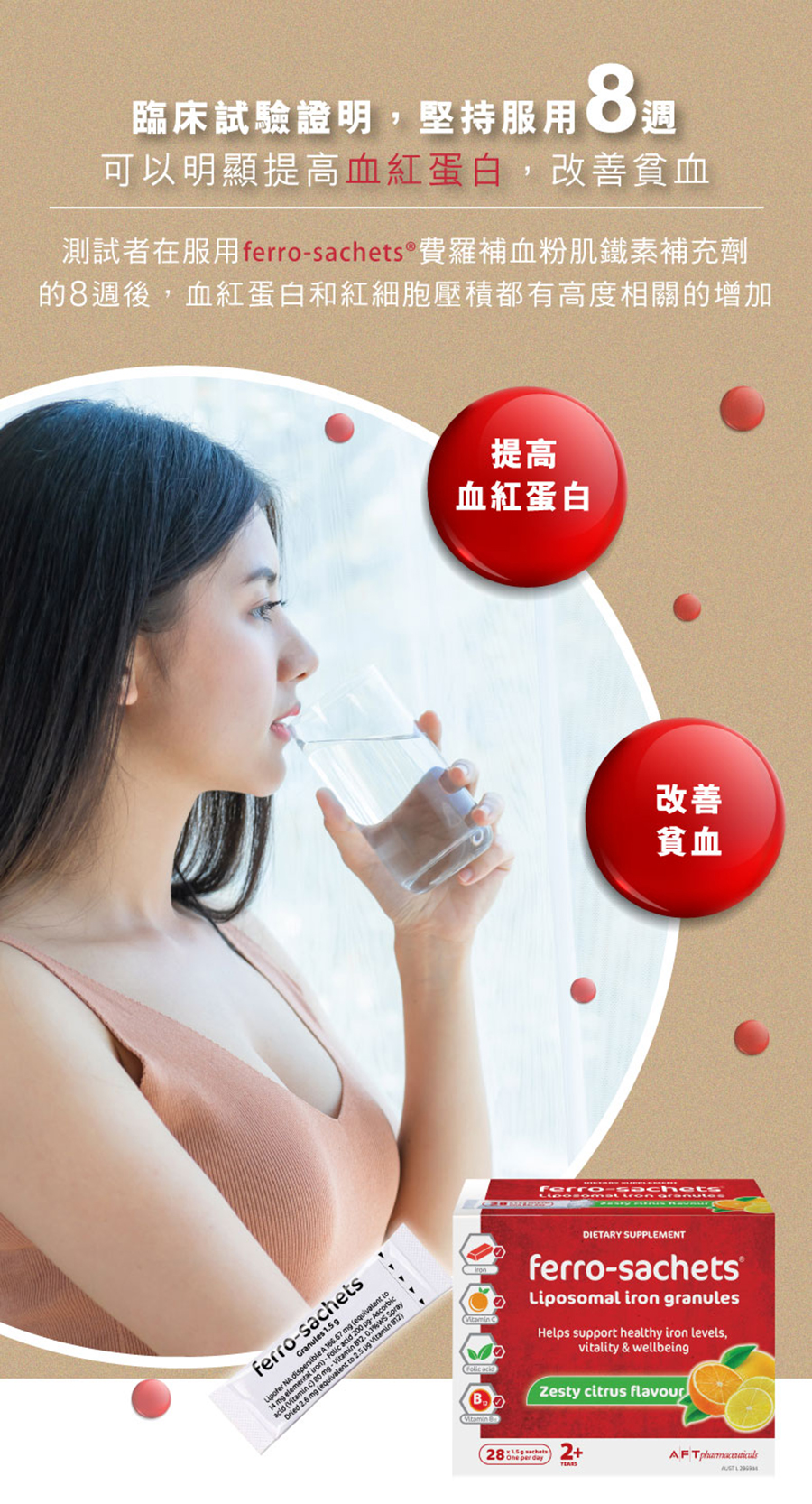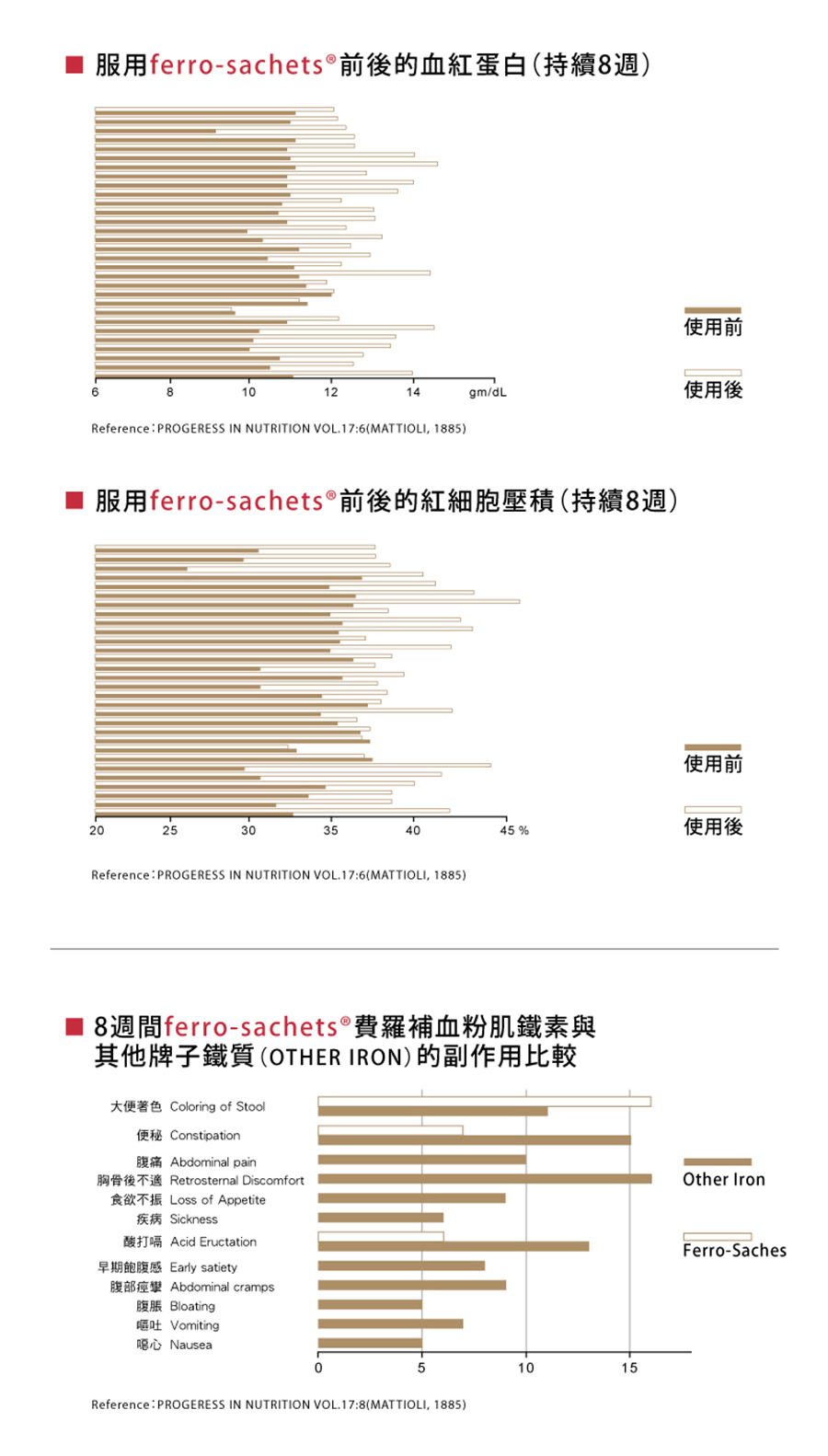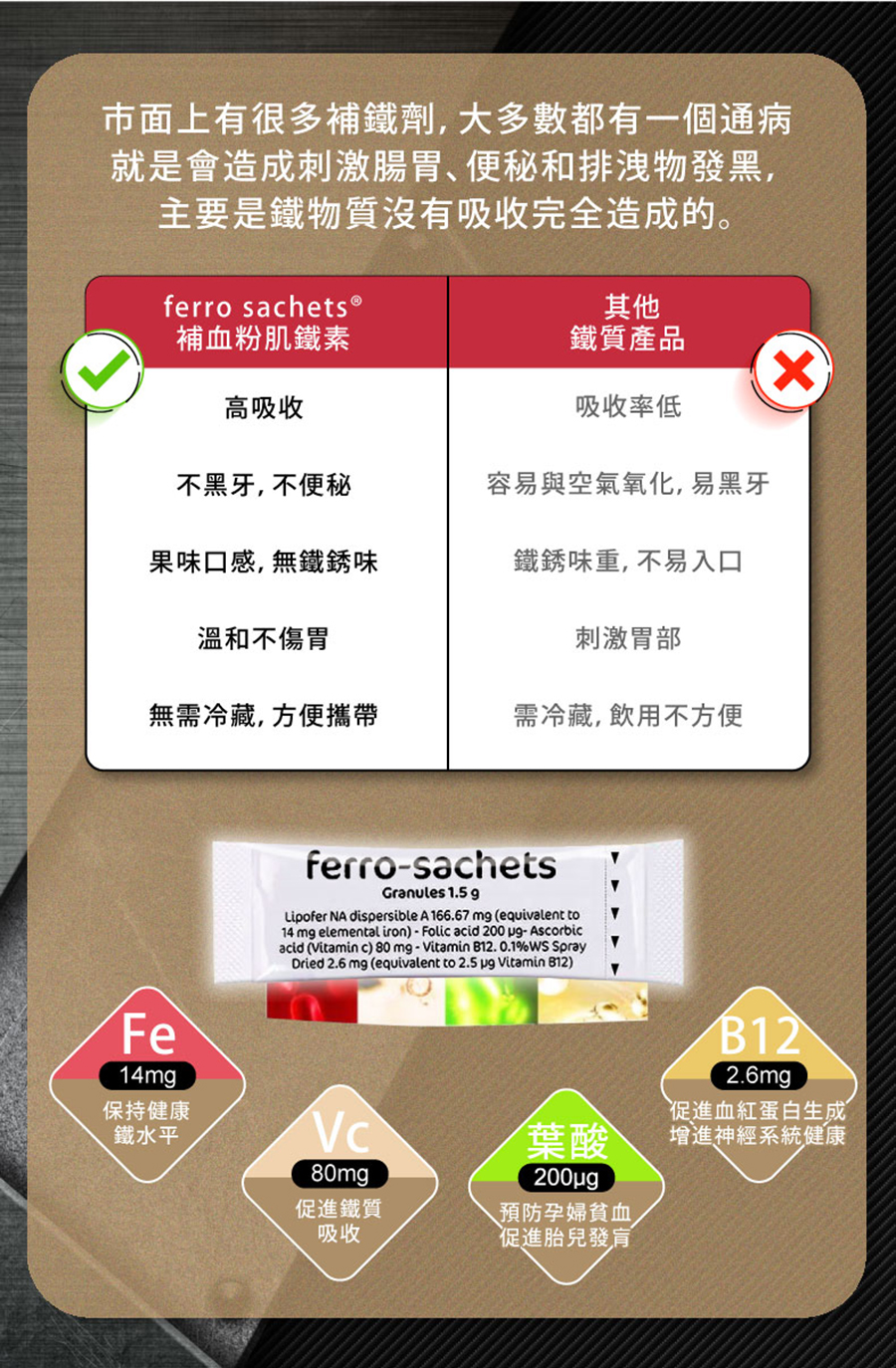 FERRO-SACHETS® IS A DIETARY SUPPLEMENT CONTAINING IRON MICROENCAPSULATED IN LIPOSOMES. THESE LIPOSOMES PROTECT IRON WITHIN THE DIGESTIVE SYSTEM, HELP ENHANCE IRON ABSORPTION, AND REDUCE STOMACH UPSET, CONSTIPATION, AND OTHER SIDE EFFECTS. EACH CONTAINS 14 MG OF ELEMENTAL IRON TO HELP MAINTAIN HEALTHY IRON LEVELS, ENERGY AND VITALITY.
Place of Origin
Italy
Benefit
• INCREASING THE LEVELS OF IRON AND HAEMOGLOBIN IN THE BODY.
• MICROENCAPSULATED LIPOSOMAL IRON TO ENHANCE ABSORPTION AND REDUCE UNDESIRABLE SIDE EFFECTS WITH CLINICAL PROVEN REPORT
• TRAVELS THROUGH THE ACIDIC STOMACH ENVIRONMENT, GENERALLY UNAFFECTED. THEREFORE IRON REACHES THE SMALL INTESTINE WHERE IT IS EASILY ABSORBED.
• CLINICAL PROVEN THAT TAKING FERRO-SACHETS® FOR 8 WEEKS CAN SIGNIFICANTLY INCREASE HEMOGLOBIN, IMPROVE ANEMIA, AND REDUCE UNDESIRABLE SIDE EFFECTS SUCH AS CONSTIPATION, STOMACH UPSET, DIARRHEA, NAUSEA OR OTHER DIGESTIVE ISSUES.
• ALSO CONTAINS VITAMIN C TO AID ABSORPTION, ALONG WITH VITAMIN B12 AND FOLIC ACID.
• GLUTEN AND LACTOSE FREE
• GRANULES DISSOLVE QUICKLY IN THE MOUTH
• GREAT TASTING ZESTY CITRUS GRANULES (NO METALLIC TASTE/SMELL)
• EASY & CONVENIENT. GRANULES CAN BE POURED DIRECTLY INTO MOUTH OR MIXED WITH WATER/JUICE
Product Usage
1 SACHET DAILY. POUR GRANULES DIRECTLY INTO MOUTH. OR CAN BE DISSOLVED IN WATER OR JUICE IF PREFERRED.
Ingredients
Each 1.5g sachet contains 14mg elemental iron, 80mg of Ascorbic acid(Vitamin C), 2.5 μg of Vitamin B12, 200μg of Folic acid
Pieces per Container
28 SACHETS
Storage Condition
STORE BELOW 25°C, IN DRY PLACE. PROTECT FROM LIGHT AND HUMIDITY. KEEP OUT OF REACH OF CHILDREN.
Warnings
NOT FOR THE TREATMENT OF IRON DEFICIENCY CONDITIONS. PHENYLKETONURICS ARE WARNED THAT THIS PRODUCT CONTAINS ASPARTAME (PHENYLALANINE). KEEP OUT OF REACH OF CHILDREN. VITAMIN SUPPLEMENTS SHOULD NOT REPLACE A BALANCED DIET. GLUTEN: CONTAINS MALTODEXTRIN. IF SYMPTOMS PERSIST
Width
7
Height
8.5
Depth
8
Product Code:811717
Add to wishlist