Babycook® Solo Dark Grey
Free Gift Promotion Offer
RRP
HK$1,599.00
(Save: HK$320.00)
delivery method
ESTIMATED DELIVERY
PRODUCT DETAILS

Seller Information

PROMOTION

PAYMENT & DELIVERY
Description
Babycook® makes up to 1100 ml of food in a sleek, patented countertop appliance that steam cooks, blends and reheats/defrost all-in-one, in 15 minutes or less. Refrigerate or freeze leftovers, then simply defrost and reheat right in Babycook®.
Steam cooking locks in vitamins and nutrients, a multi-purpose mixing blade provides just the right texture, the timer has an audible alert to tell you when meals are ready, and all of this with total one-handed operation. This appliance is loaded with features that make any parent a pro in home-made balanced baby food preparation.
It is also possible to collect cooking juices (rich in vitamins and minerals) from the bowl to control the texture of the preparation. Babycook® adapted baby feed so every feeding stage from puree to chunks is easy to make. Tips: Also use your Babycook® after baby has grown to cook any purees or blend your sauces!
4-In-1 food maker
Steam cooks, blends, defrosts and reheats. XL capacity.
Steam cooks quickly in 15 minutes: preserves flavours and vitamins.
XL bowl capacity 1100 ml: for preparing large quantities in no time.
› Manual cyclone-effect blade: for tailored mixing, for adapting the consistency to the child's age.
› Single control button (cooking – mixing): an ultra-compact solution.
› Accessories: supplied with blending/smoothie filtre lid, spatula and recipe booklet.
› Care: cover, basket, lid, knife: wash by hand or dishwasher. Body of device: clean with soft damp cloth. Do not immerse.
Tips: Also buy the Babycook® Pasta/Rice Cooker to prepare congee, rice and pasta for baby!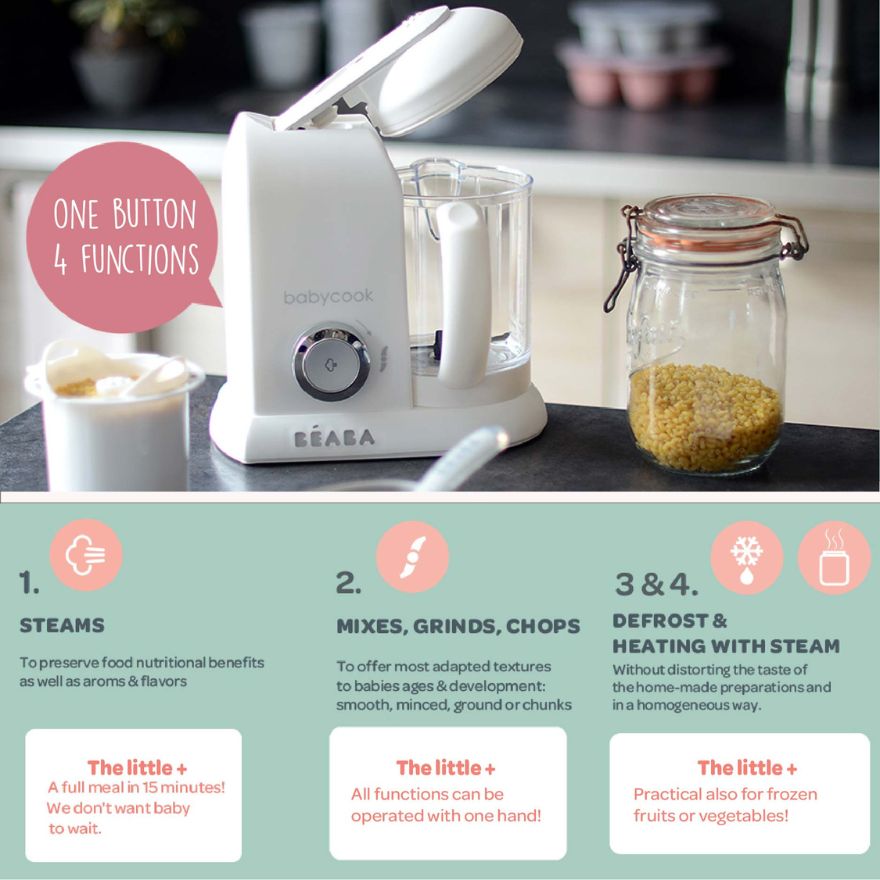 Place of Origin
China
Benefit
/
Product Usage
/
Pieces per Container
27.5 X 18 X 24 cm
Storage Condition
/
Warnings
/
Width
18
Height
24
Depth
24